The Bed Bugs Don't Have To Bite In Your DFW Home
Here in Dallas-Fort Worth, bed bugs are much more than the villain in a child's nursery rhyme. They are real pests that have grown increasingly problematic over the past few decades. Bed bug infestations have skyrocketed in recent years, and homes are just as likely to be affected as hotels. If you suspect your home has a bed bug infestation, taking immediate action is necessary. The Dallas bed bug control experts here at Lonestar Safe Pest provides bed bug control services to rid your home of its bed bug infestation.
Our Bed Bug Control Process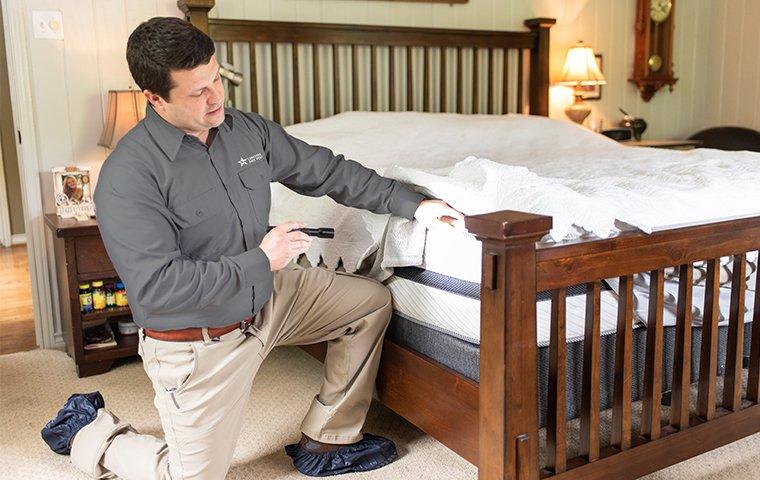 Free Inspection
Our bed bug control service begins with a free inspection. Several bugs resemble bed bugs, so it's important to confirm that you do in fact have a bed bug infestation before we begin treatment. This inspection also allows us to determine how large and widespread the infestation is, which helps us determine the course of treatment needed.
Initial Treatment
Before performing your first treatment, we'll provide you with a prep sheet that you'll need to complete. Once we arrive, we'll apply a liquid treatment to beds, mattresses, carpets, walls, ceilings, furniture, and baseboards. If necessary, we will also use a heat gun to spot treat areas. Room-by-room or whole-house treatments are available based on your needs and the scope of your infestation.
Follow-Up
We will return to your home 14 to 21 days after your initial treatment. During this visit, we'll inspect your home for any signs of bed bug activity. If we find any, we'll re-treat your home. We'll continue to return until all signs of bed bug activity are gone.
Bed Bug-Free, Guaranteed!
With bed bug control from Lonestar Safe Pest, you'll receive the results you expect. Our bed bug control comes with a six-month guarantee. If your bed bug infestation reoccurs within those six months, we'll return to re-treat. If you suspect bed bugs have gotten into your home, contact Lonestar Safe Pest to schedule your free bed bug inspection today! Learn more about Dallas-Fort Worth home pest control.
Request Your Free Inspection Today
Complete the form below to schedule your no obligation inspection.