McKinney, TX Pest Control Services
McKinney is a city in and the county seat of Collin County and is the second-largest city in the county after Plano. Our area is about 32 miles away from Dallas and provides its residents with plenty of parks to visit and activities to explore. Many pests live here in McKinney including rodents, bed bugs, mosquitoes, and countless others. Despite the steps you may take to keep these pests away from your property, there will always be a few that slip past your radar.
To protect your McKinney home or business from nuisance and dangerous pests, turn to the service technicians here at Lonestar Safe Pest. Our primary goal is to provide the best in pest control services that will eliminate current pest problems and prevent more pests from invading in the future. Reach out to the professionals here at Lonestar Safe Pest for complete pest control solutions you can't find anywhere else.
Home Pest Control In McKinney, TX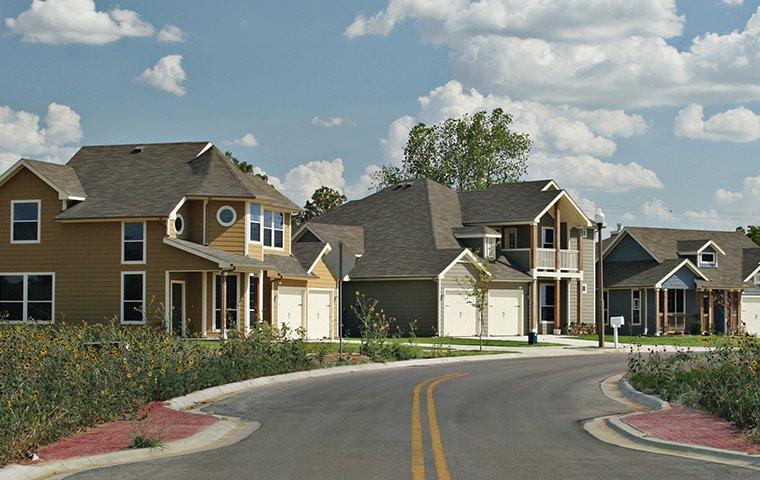 Without the right protection, no McKinney home is safe from pest infestations. Your home should be a place where you can put your feet up and relax after a hard day at work, and somewhere you can enjoy spending time with your family. When pests invade your McKinney home, they can damage property, spread dangerous diseases, and contaminate food items. The best way to ensure your residential property remains free of pests year-round is with a home pest control plan from Lonestar Safe Pest.
At Lonestar Safe Pest, we design our home pest control services to target and eliminate pests living around your property and prevent future pest infestations. If you're looking for pest control services you can trust, we've got you covered. With our licensed service technicians by your side, pests don't stand a chance.
Here at Lonestar Safe Pest, we understand the importance of keeping your McKinney home pest-free. Our home pest control plan includes bi-monthly service visits, integrated pest management (IPM) methodology, and coverage for 27 common pests. Contact Lonestar Safe Pest today for more information about our residential pest control process.
Commercial Pest Control In McKinney, TX
Every business has the potential to be successful. That is unless pests invade your commercial establishment. Even one pest sighting in your McKinney business can lead to negative publicity and angry customers, which is the last thing any business owner needs. There should always be a zero-tolerance policy when it comes to protecting your commercial property. At Lonestar Safe Pest, we make an effort to go above and beyond traditional pest control services. All of our commercial pest control programs include individualized treatments based on your specific pest control needs.
We provide effective pest control services for a wide variety of business facilities, including the following:
Daycares
Food processing facilities
Healthcare facilities
Nursing homes
Office buildings
Restaurants
Retail stores
Schools
Warehouses
If you're ready to discover complete pest control solutions for your commercial property, Lonestar Safe Pest has your back. Give us a call today to find out which of our commercial pest control programs is right for your McKinney business.
Guide To Avoiding Rodents In McKinney, TX
Rodents are a major problem for home and business owners across the United States, and McKinney is no exception. Although some rodents might appear harmless, or even cute, it's important to realize that they are wild animals. Mice and rats are common rodents that invade homes and businesses while foraging for food, water, and shelter. Rodents can spread diseases, chew on wires, and damage personal property. These irritating pests reproduce rapidly, which means getting rid of rodents without professional help is almost impossible.
To avoid attracting rodents to your McKinney property, implement the following rodent prevention tips:
Seal your garbage cans with tight-fitting lids.

Pick up pet food.

Store leftovers in airtight containers.

Get rid of clutter in and around your property.

Seal up cracks in your foundation and exterior walls.

Install weatherstripping around all exterior doorways.
Don't wait for rodents to start causing problems inside your McKinney home or business;, contact Lonestar Safe Pest for immediate rodent and wildlife control services.
Everything You Need To Know About Bed Bugs In McKinney, TX
Bed bugs are the worst. These tiny pests seem to appear out of thin air to feed on your blood and hide in your bedding. Not only do they cause restless nights and unnecessary stress, but they can also cause anemia – a condition in which there aren't enough healthy red blood cells in your body.
When it comes to finding bed bugs, here's everything you need to know:
Bed bugs are experts at hiding. They have flat bodies that allow them to squeeze into the tightest cracks and crevices.

Bed bugs are nocturnal, which means they come out at night to feed on their sleeping victims.

Bed bugs are more common in public areas, such as libraries, public transportation, airports, and movie theaters.

Bed bugs are hitchhiking pests, which means they can only invade if you bring them inside on your bags, clothing, or other belongings.
If bed bugs invade your McKinney property, you should contact professional pest control right away. Lonestar Safe Pest provides excellent bed bug control and prevention services that remain effective year-round. Call us today to get started!
Request Your Free Inspection Today
Complete the form below to schedule your no obligation inspection.